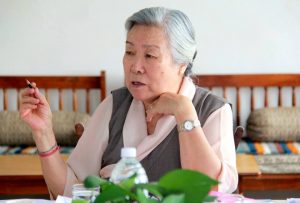 (Source: https://www.thebetterindia.com/134167/mother-tibet-jetsun-pema-savior-tibetan-children-dalai-lama-naari-shakti/ )
On International Women's Day last week, the Government of India presented its highest civilian honour for women, the Naari Shakti Puraskar. Among the recipients of this prestigious award was a 77-year-old Tibetan refugee, who has profoundly affected the lives of thousands of children.
Through Jetsun Pema's efforts in establishing the Tibetan Children's Village institution and its various branches across India, thousands of orphans, destitute and refugee children from Tibet and other Himalayan regions, found an education and maintained proximity to their Tibetan Buddhist roots.
Fondly known to the Tibetan refugee community and beyond as 'Ama' (mother in Tibetan), she is often referred to as the 'Mother of Tibet' for her extraordinary work.
"Jestun Pema has dedicated her life for Tibetan refugee children since 1964. With the assistance of the Government of India and other philanthropic organisations, Pema established a total of 10 residential schools, 17-day schools, three vocational training institutes, three hostels for college students and one college, spread across India."
"So far, 52,000 students have graduated from her institutions, of which 50% are Tibetan refugees. Apart from Tibetan children, her institutions also impart education to children from the Himalayan regions," said the Government of India when conferring her with the award.
By any stretch of one's imagination, this is a remarkable achievement, which India must celebrate. In addition to her work in establishing TCV as a major institution, this UNESCO medal-winner was also the first woman to become a minister in the Central Tibetan Administration.
Unlike her more celebrated elder brother, His Holiness the 14th Dalai Lama, Ama Jetsun Pema's remarkable contribution has gone a little under the radar, and it's to the credit of the Indian government that it has recognised the scope of her work.
Born on July 7, 1940, in Lhasa, Ama Jetsun Pema was sent for her formal education to India in 1949, the year Mao Tse-Tung grabbed power in China. She went to the prestigious St Joseph's Convent in Kalimpong, followed by a stint at Loreto Convent in Darjeeling, where she finished school.
While she was away from all the political turmoil in Tibet, her brother, the Dalai Lama, was working towards negotiating a peaceful political settlement with the ruling communist dispensation in Beijing. Unfortunately, the Dalai Lama's efforts were in vain, and along with the rest of the family, fled to India in 1959, where the Government of India offered them refuge in Dharamshala.
In an interview with ABC Radio National, an Australian public service broadcaster, Ama Jetsun spoke of her experience in convent schools, and how it prepared for life after academics. "We were all different religions, like Buddhists, Hindus and Protestants and Catholics, whereas the non-Catholics took a class on 'the moral sciences' which was very interesting," she says.
Her experience with other faiths would later pave the way for her work at TCV, where the networks she developed would assist the process of gathering funds, aid works and teachers from all over the globe. Following school, she proceeded to Switzerland and England for further studies. Although she was preparing for a life in service of the Dalai Lama's office, fate would land her elsewhere.
On her return to India in 1964, Ama Jetsun's elder sister, Tsering Dolma Takla, had fallen ill. Soon, she had to take up her responsibilities in looking out for young orphans and poor children separated from their families during their harrowing escape from Tibet.
Following China's annexation of Tibet in 1959, millions of Tibetans escaped to India under very difficult circumstances, avoiding persecution. Recognising that this ordeal had resulted in many children either losing their parents or enduring a painful separation, the Dalai Lama proposed the establishment of a nursery where they could find shelter and education in Dharamshala.
"Originally, the Nursery for Tibetan Refugee Children provided only basic care for children. When they reached the age of eight, they were sent to other residential schools established by the Government of India," says the TCV website. The constant influx of refugees and their children, however, created logistical problems, especially the lack of space. When Ama Jetsun took charge of the nursery in 1964 following her sister's illness, matters took a different turn altogether.
Her vision, relentless work ethic and an uncompromising commitment to the upliftment of young Tibetans translated into the transformation of this nursery to a full-fledged institution, which offered quality education and residential facilities. She went after international aid agencies, private donors, and the Government of India to acquire the requisite funds and permits for constructing more classrooms and houses for these children.
"The Nursery slowly took the shape of a small village with its own school and homes. In 1971, TCV took over the small nursery in Patlikuhl (In Kullu Valley) and expanded it into a residential school. In 1972, it was formally registered under the Societies Act as Tibetan Children's Village, and it also became a full-fledged member of SOS Kinderdorf International (or SOS Children's Villages, a Vienna-based NGO working for the betterment of children)," says the TCV website.
Despite the initial success, the plight of Tibetan refugee children in other parts of India remained worrisome. Under the guidance of His Holiness, TCV expanded its scope of operations beyond Himachal Pradesh and established a branch in Ladakh in 1975, followed by another one Bylakuppe, Karnataka in 1980. Both centres have flourished into educational institutions of note with their own schools and residential facilities for children.
Today, TCV has eight major school branches with residential facilities across India. Every new branch that has opened is seemingly down to the necessity of absorbing the unabated flood of new refugees escaping Tibet.
In Lower Dharamshala, for example, TCV converted its poultry farm to a school. Today it is a formal institute offering primary and secondary education. In addition to these schools, TCV runs an institute of higher education, vocational centres, youth hostels and other outreach programmes. After 42 years, she stepped down as the president of TCV in August 2006.
Speaking to Rinchen Wangchuk, a Ladakhi student of TCV Upper Dharamshala from 1991 to 2003, one gets a sense of how the school had a profound effect on him.
"The experience of studying there was wonderful in more ways than one. I learnt many things there beyond formal subjects. The emphasis at school was not necessarily about scoring good marks but becoming a better human being. Lessons, like putting others before the self and using whatever education you have to serve others, were drilled into us from a very early age. Pretty much everything His Holiness the Dalai Lama imparts to humanity is taught to us at TCV School," he said. Today, he runs a successful Japanese restaurant in Mumbai.
Rinchen Dolma, a Tibetan refugee now teaching at a primary school, fondly speaks of the warmth Ama Jetsun radiated to those around her. "I had the good fortune of interacting with her on two occasions while studying at TCV Bylakuppe. What struck me most was her grace, and natural ability to transmit a mother's selfless love to any child. That sense of compassion and love she radiated left an indelible impression on me. I'm so glad she's being recognised for her work today," she said.
Aside from her contribution to education and Tibetan politics, she is also a modern woman, breaking age-old traditions on the way. When her first husband passed away after a car crashed, she refused to abide by tradition and become a nun, as was the earlier practice. Instead, she married again. Today, she is married to Tempa Tsering, a representative for His Holiness the Dalai Lama, and has two children.
From enjoying the comforts of the Potala Palace in Lhasa as a young child to serving other children who had no one else to look out for them, Ama Jetsun has undergone a remarkable sojourn, and it's wonderful that we have another chance to celebrate her life's work.